The artist Marlen E. Flatsetø donates her painting "Pink passion - the sky is the limit" to Pride Arts' work to create safe meeting places for queer youth who are not associated with parties and intoxication. The artwork is estimated to have a value of at least NOK 30.000 and will be auctioned off in connection with the art festival Wunderkammer in October.
THE PAINTING
The starting point for the painting is a collaboration between the artist and the interior profile Nina Lunde (VillaFloris) who wanted a colorful fresh breath for her wall where the motif should be a little challenging and break with the standard. Marlen painted the picture over the course of a month, and had a lot of dialogue along the way about the painting with Nina Lunde before it hung with her for a while.
When asked what the painting means to her, Marlene answers: - I feel the painting represents freedom, feminism, equality and human rights, something I am very interested in regardless of theme. I myself am heterosexual with husband and children and have never experienced discrimination due to. homosexuality on the body. But I have friends and family who have different experiences with this and it arouses a strong feeling of injustice in me that someone will have to fight for their orientation. Everyone should be able to love exactly who they want. Nudity, sensuality and sexuality between people have been expressed in art since the dawn of time. We are used to seeing a lot of this in the art world. Nevertheless, it is perceived as controversial as soon as this is by two women. That said, I have received almost exclusively positive reactions to the image itself and it is by far my most popular painting and print. I think the picture is beautiful, and really relatively innocent even if it is nudity and a kiss on a tit. To me, it shows love between two people and that it is beautiful.
FARMEN PROFILE ASSIST
In 2021, Marlene contacted the farm profile Lene Sleperud and asked if she would like to help spread the message in her network. The contact between the two led to Marlene creating a print campaign of the painting where she donated 30% of the sales to Amnesty Norway's purpose; which are equal rights for LGBT people. Marlene says: - Lene got a test print from me to share the campaign. She later shared on her own initiative in her channels when the picture was framed, and it has also been shown on Good Evening Norway when they were at home with the farm couple Lene and Tonje just before Christmas 2021.
CONTACT WITH PRIDE ART
Marlene eventually came in contact with Pride Art to get help to auction off her painting and she continues: - It could not really fit better than this year as there is a great focus on queer cultural years, and when I gained insight into the fine work Pride Art does to create safe meeting places for queer youth who are not associated with partying and drugs, as they most arenas for this group are today, there was something I felt on the contrary that I would like to contribute to in my way. And then there is positive visibility for me, of course. My biggest dream is to be able to make a living from art as a profession, but I also have a strong desire to be able to contribute to a better world and current social issues through my art. So where I see that it can make a difference, I will do such things between sales and orders.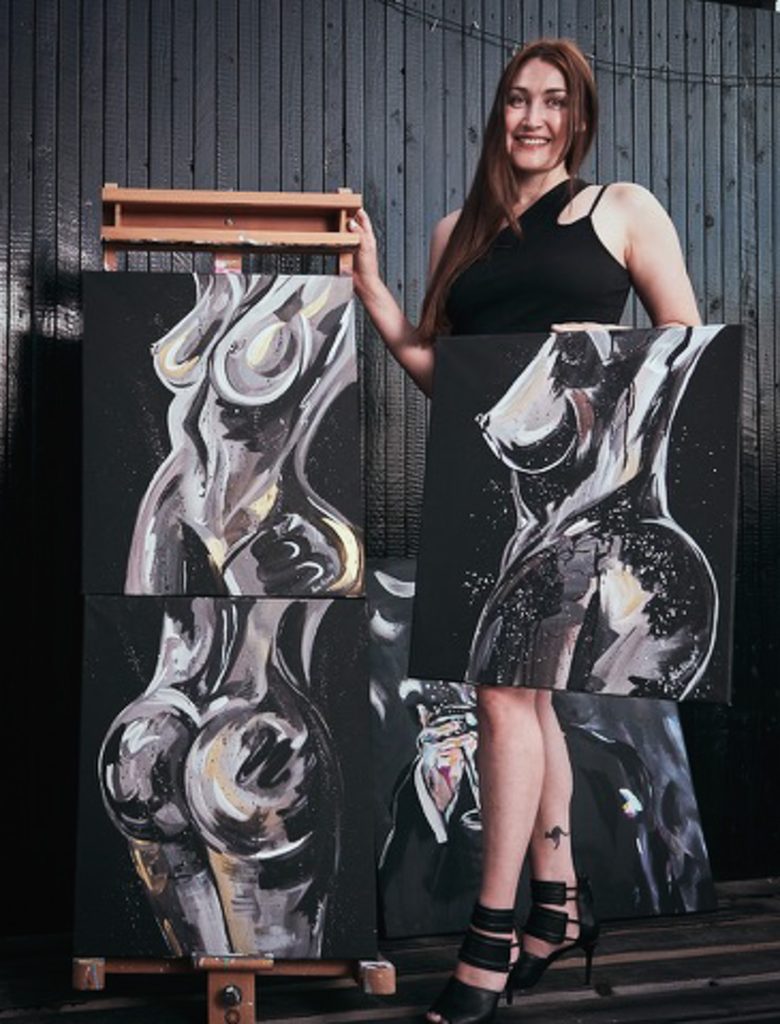 MARLENES TIPS FOR ARTISTS WHO WANT TO SELL
- The digital world has opened up opportunities for more independence for artists, without being at the mercy of gallery representation. I sell most art via Instagram and Facebook, then most commissioned works. The prints are mostly sold via the website. Original works I have painted have sold most physically at exhibitions. I have no final decision on what works best, but I try to create exciting and engaging content that makes me stand out a little. I also use the ad features on Facebook and Instagram, but have some trouble with it as much of my art shows nudity that violates the guidelines and blocks ads. A nice balance of professionalism and personal touches works for me. I have also been lucky to have some good collaborations that have contributed to more visibility, e.g. with interior profile Nina Lunde, farm profile Lene Sleperud, Builder Haagensen, cross-country skier Kathrine Hersem and artist Adrian Sellevoll. Art is both a tough profession and a financially unstable profession for most people, so you are almost dependent on visibility to be able to get it going. I think many people refuse to profile themselves and their art, and also to praise their work. The best advice I can give is to have faith in what you do yourself, try to keep a common thread in the expression, use available channels for everything it is worth, set sub-goals for what you want to achieve and do not be afraid to bid on itself.
THE AUCTION
The painting will be auctioned off during the Pride Arts art festival «Wunderkammer» at DOGA in Oslo from 7 to 16 October, where a fundraising event will be arranged on 14 October in Jacob Kirke. More information will be given at the opening of "Wunderkammer" at doga on October 7.
You can see and read more about Marlene's art on her website: https://www.ipaint.no/